NASGI SNB Crash on Mount Greylock
Crash On Mount Greylock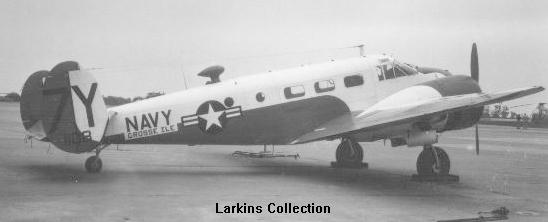 On April 2, 1958 a USNR Beech SNB‑5 Kansan from NAS Grosse Ile, MI was en‑route to NAS South Weymouth on what was supposed to have been a routine cross country navigational training flight when it crashed on Mount Greylock in North Adams, MA about 150 miles northwest of the base. Mount Greylock, which is 3,491 feet high, is the highest mountain in Massachusetts.
Visibility outside the aircraft was poor due to heavy clouds and falling snow in the area of Mount Greylock at that time. The SNB‑5 was flying in instrument conditions when it struck the side of the mountain about 400 feet below its peak. The pilots never saw the mountain before they hit it.
There were only two men from NAS Grosse Ile on board the aircraft, pilot CDR Robert B. Vandenberg and copilot LT Eugene B. Ganley. CDR Vandenberg suffered serious injuries while LT Ganley was killed immediately upon impact. There was about six to eight feet of snow covering the section of the mountain where the crash occurred.
The SNB had been in radio contact with air traffic control and had been tracked on radar when it suddenly disappeared over Mount Greylock. Despite the bad weather an Air Force SAR aircraft soon found the crash site and a team of USAF paramedics were dropped in by parachute. CDR Vandenberg was pulled out of the twisted wreckage and airlifted to the nearby North Adams Hospital by an Air Force helicopter from Hanscom Field in Bedford, MA. A few days later, a Navy salvage team from NAS South Weymouth was brought to the crash site by helicopter to recover the SNB's engines and other critical components and bring them to the base for examination. No sign of failure was discovered and the cause of the crash was determined to have been the result of pilot error.
Marc J. Frattasio
Author:
The New Haven Railroad in the McGinnis Era
Dining on the Shore Line Route
Bob Tweedy: Engineer
The Minutemen of VP-92: The Story of New England's Naval Air Reserve Patrol Squadron
VP Association Sea Story Library Volume One: Tales from the Naval Air Reserve at NAS South Weymouth, Massachusetts
VP Association Sea Story Library Volume Two: Tales from the Naval Air Reserve at NAS South Weymouth, Massachusetts
NAS Squantum: The First Naval Air Reserve Base
COMING SOON - NAS South Weymouth: The Home of New England's Weekend Warriors