NAS GROSSE ILE

Douglas AD-5N Skyraider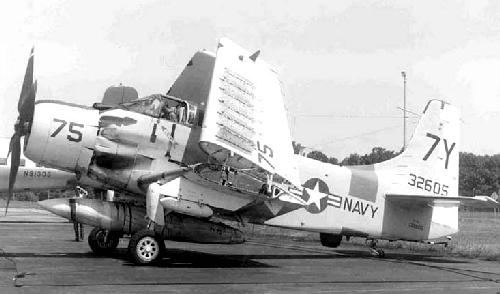 132605 was an AD-5N assigned to NASGI from October 1961 to August 1963.
Photo Furnished by William T. Larkins
Douglas AD Skyraider
Douglas AD-1Q Skyraider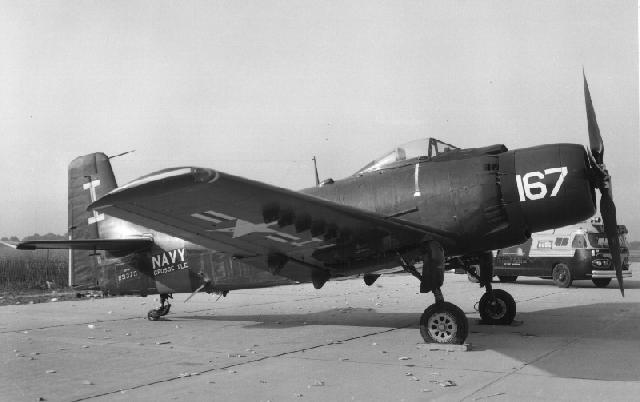 Photo furnished by William T. Larkins NASGI AD-1Q (SN 09370) Larkins Collection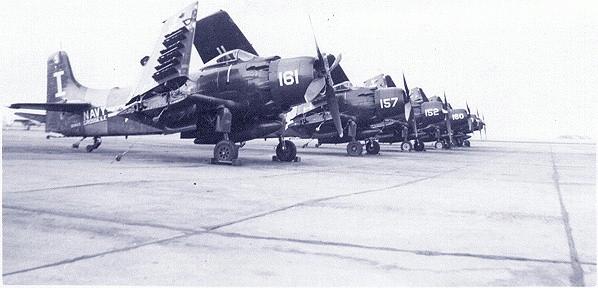 Photo of the AD flightline 8/5/53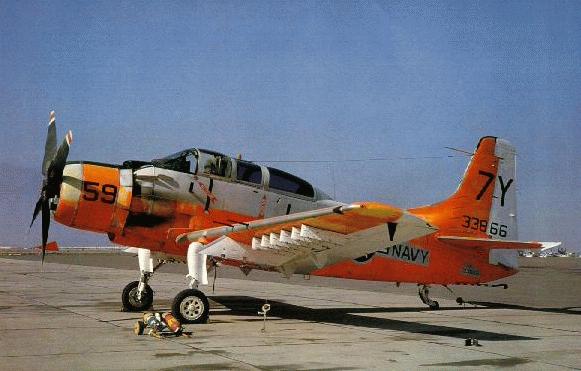 AD-5
This photograph may not be used or published, neither commercially nor for other purposes, in any form, including but not restricting to the Internet, magazines and books, without the photographer's permission. For all inquiries please contact the photographer by e-mail or by other means.
The Skyraider was one of the longest lived combat aircraft in the United States air arsenal. First arriving as the A-1 and AD series of Navy fame, it entered production in 1945 to late to see action in W.W.II, Its Wright R-3350 18 cylinder air cooled radial engine developed 2700+ horsepower gives it exceptional load carrying ability. It was soon thought to be outdated, but proved its worth as an attack aircraft during the Korean War. It was so successful that production continued until plane number 3180 came off the line in 1957. Through the years there had been 28 different versions of the Skyraider produced for the Navy, Marines and Air Force.

An antique by most standards it would still prove its value in another war with the approach of the Vietnam conflict. In Vietnam the Skyraider again did all that it was called on it to do and more, whether called the A-1, AD, Spad, The Flying Dump Truck, Able Dog, Sandy, Dusty or any number of other names.

The Skyraider came in single seat and the side by side models with a wider fuselages. Probably the most unusual model was the A1-E which had the side by side cockpit and a rear cabin that could seat 12 passengers or 6 stretchers or up to 2000 pounds of cargo. It also had a larger vertical tail.

The AD's internal armament was four 20 mm cannons that were used mainly for ground support with up to 8000 pounds of assorted ordnance on fifteen pylons on the wings.

| | |
| --- | --- |
| Manufacturer | Douglas |
| Designation | AD |
| Version | -4 |
| Type | Attack Bomber |
| Crew | 1 or 2 |
| Length | 38'2" |
| Wingspan | 50' |
| Gross Weight | 18,263 lb. |
| No. of Engines | 1 |
| Power plant | Wright R-3350 |
| Horsepower | 2700 |
| Max. Speed | 321 Mph |
To the surprise of many, in the early years of the United States involvement in Vietnam, Navy pilots from VA-25 shot down two MIG-17's in June of 1965.
The Skyraider proved it could handle any role required of it, but even this great bird had been replaced by an all active unit by 1968.
"The Marines initially maintained the AD-5Nís but 5 sailors, including me, were assigned mid to late 1960 to the Marines and maintained our block of 4 Spads and later were assigned the 2 T-28ís as our responsibility when they were received. When the Marines received the C-119ís sometime in 1961, the AD-5Nís were turned over to the Navy maintenance and Harvey Muir was the first AD line supervisor.
By the end of the 1965, all of NAS Grosse Iles AD-5N's (actually they were then designated A1E as the military standardized aircraft designation to the Air Force method) they were transferred to the Air Force, modified probably on the West Coast, with pneumatic tail wheels, tailhooks removed, and new radio and nav gear installed. They were then sent to Vietnam. " -- Dick Johnson
Email: Web Master
Copyright © 1999NASGIVM All rights reserved.
Revised: June 30, 2010