NAS GROSSE ILE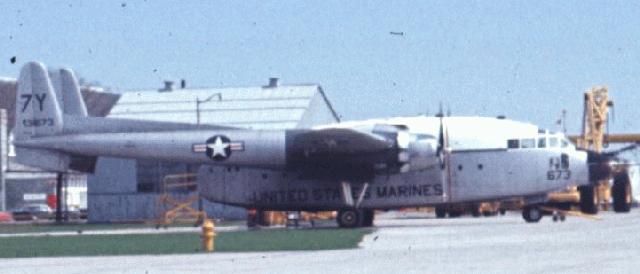 Photo by Gerald Clement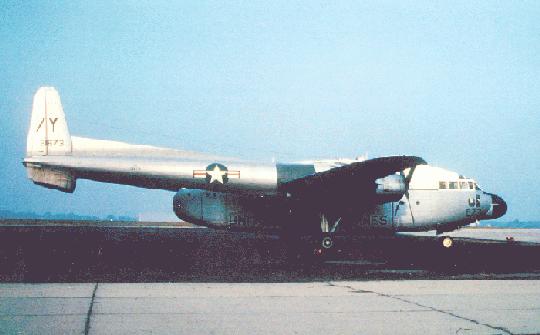 Photo by Mike Wilson
This photograph may not be used or published, neither commercially nor for other purposes, in any form, including but not restricting to the Internet, magazines and books, without the photographer's permission. For all inquiries please contact the photographer.
Fairchild C-119 (R4Q) Flying Boxcar
DESCRIPTION

| | |
| --- | --- |
| Manufacturer | Fairchild |
| Designation | C-119 (R4Q) |
| Type | Transport / Cargo |
| Crew | 4 |
| Length | 86' 6" |
| Wingspan | 109' 4" |
| Height | 26' 3" |
| No. of Engines | 2 |
| Power plant | Wright R-3350-89 Cyclones |
| Horsepower | 3500 each |
| Max. Speed | 245 Mph |
| Cruise Speed | 175 Mph |
| Ceiling | 23,900' |
| Max. Range | 1770 |
The C-119 was developed from the C-82 of World War II fame. It first flew in 1947 and had a very long service life with the military. When it started its career the Boxcar was the largest of its kind. The C-119 had a pod type fuselage with high mounted wings. It could carry 62 troops and various types of cargo. Production of the C-82 Packet ended in 1948 and the first Flying Boxcar was delivered a year later in December, 1949. By the time the last Dollar 19 rolled off the production line 1955 there had been 1,112 built.
The 119 had many modifications including the G model that had two General Electric J85-17 turbojets mounted under the wing outboard of the piston engines. There was even a gun ship model with a crew of 10 known as Shadow and the jet assisted version was the Stinger.
The 119 was just one more aircraft proving that even though dated, it was dependable and useful in Vietnam.
I think the Boxcars flown by the Marine crews made me more nervous than any aircraft I saw take off at Grosse Ile while I was on the crash crew. There were times I don't think they would have made it into the air if the runway had been a foot shorter. Luckily the only accident that I know of, was with a C-119 parked on the ramp at Grosse Ile that had a hold blown in its wing while having a fuel pump replaced.
Email: Web Master
Copyright © 1999NASGIVM All rights reserved.
Revised: January 28, 2010