NAS GROSSE ILE



Beechcraft SNB / JRB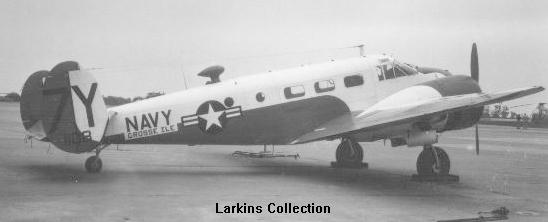 Photo from the William Larkins Collection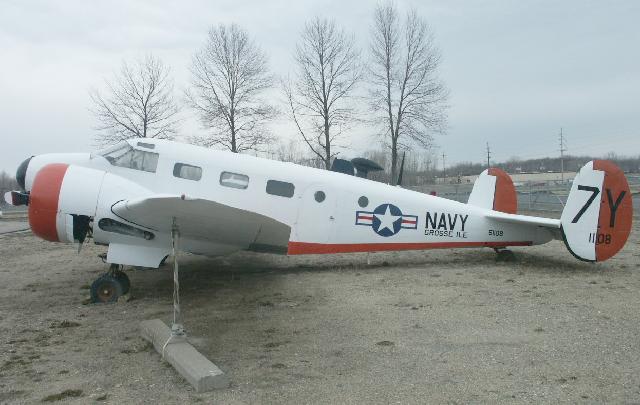 Photo from the Tim Tyler Collection
Comments on the photo from the Larkins Collection:
The dark areas of this aircraft are probably blaze orange in color while other of these aircraft were white or gray. During the early to mid 50s they may have also had an orange stripe around of the fuselage. They were normally parked east of hanger 1 and sort of in front of the fire hall as far back as the mid 50s. The dark bulb on the rear center fuselage is the ADF antenna. Occasionally they had two installed. When the squadrons went on their annual cruises the skipper of some squadrons would take it along as the CO plane. They also used it for aerial photography. They were noted for being a difficult aircraft to land, but maybe no worse that R4D. The pilots all grumbled about flying them and very few if any ever greased one on. It was considered it a smooth landing if they only bounced twice.


Comments edited from: Hal Neubauer and Larry Needham
Comments on the photo from the Tyler Collection:
This aircraft is displayed on the grounds of the museum at Selfridge ANG Base just north of Detroit, MI. which is also where the NASGI activity moved at the closing of NASGI. At the time of the move it was known as NAS Detroit. As far as we can tell this aircraft did not actually serve at NAS Grosse Ile but was painted to resemble one that would have serve there. -- Stanley Outlaw
Specifications

| | |
| --- | --- |
| Equivalents | C-34, AT-7, AT-10, UC-45, F-2, CQ-3, DC-45, C-45, T-7, T-11, Model 18 |
| Type | Five to seven seat utility transport |
| Crew | Two |
| Engine | Two Pratt & Whitney R-985-AN-1 Wasp Juniors |
| Horsepower | 450 each |
| Max Speed | 215 mph |
| Ceiling | 20,000 ft. |
| Range | 700 miles |
| Empty Wt | 5890 lbs |
| Max Takeoff | 7850 lbs. |
| Wingspan | 47 ft. 8 in. |
| Length | 34 ft. 3 in. |
| Height | 9 ft. 8 in. |
| Wing Area | 349 sq. ft. |
Beechcraft's model 18 first flight was on 15 January 1937 and was only moderately successful until 1940 when the Army Air Corps ordered 11 aircraft designated C-45's as staff transports. After the initial order there were orders for A, B, C, D, E and F models. All were later designated UC-45's.
CQ-3 = Drones
DC-45F = Drones
At-7 (Navigator) = Navigations trainers, later re-designated T-7.
AT-11 (Kansas, Kansan) = Advanced trainer (carried machine gun and a small bomb load).
F-2 = Photo recon.
The Navy and Marines procured a total of over 1500 Model 18's.
JRB- = Photo recon
JRB-2 = Transport
JRB-3 = Transport
JRB-4 = Transport
SNB-1 = Advance Trainer
SNB-2 = Navigation Trainer
SNB-3 = Navigation Trainer
SNB-2H = Ambulance
SNB-2P = Photo recon
SNB-3Q = ECM Trainer
Web Master
Copyright © 2000NASGIVM All rights reserved.
Revised: March 20, 2014