NAS GROSSE ILE

METALCLAD ZMC-2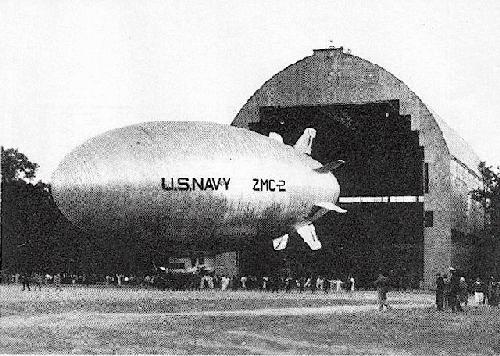 ZMC-2 leaving its Grosse Ile Hangar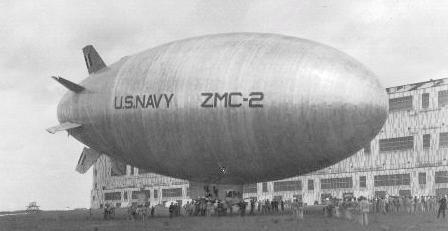 ZMC-2 at NAS Lakehurst just in from Detroit (1929)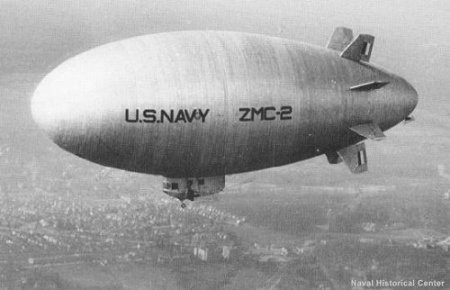 ZMC-2 (1929)
The ZMC-2 (serial number A8282) was built by the Metalcald Airship Corporation (formerly the Aircraft Development Corporation) in Detroit (Grosse Ile), MI. It was a noteworthy innovation in airship building and, although it was destined for the U.S. Navy, its designation was at variance with the usual nomenclature practice. "MC" stood for "Metal Clad" and the figure "2" indicated the gas content, which was 200,000 cu.ft (5,6663.4 cu.m).
The balloon envelope was reinforced with ribs on the inside and conveyed the impression that with this structure the airship belonged to the rigid type, as the envelope was made of many small "Alclad" duralumin sheets of 0.08 in (2 mm) thickness, joined together. The airship was filled with helium and the gas was in direct contact with the envelope, and not contained in special cells. The metal envelope was made gas-tight through a special manufacturing process whereby a machine developed for the purpose automatically sealed the thin aluminum alloy plates with three million rivets. Perhaps its operation can best be described as a kind of stitch sewing with a metal thread being cut continuously.
The Aircraft Development Corporation was formed for the express purpose of producing an airship with this novel feature, and the design and development of ZMC-2 began in 1922. By 1926 the Navy was satisfi8ed that an airship of this nature was feasible, and ordered one example. ZMC-2 made its maiden voyage on 19 August 1929, and was accepted by the U.S. Navy one month later.
In the air, the unusual ratio of diameter to length of this airship was conspicuous. Its aspect was that a plump sausage, and many people were of the opinion that ZMC-2 would not prove dirigible at all, yet the designers had this problem well under control by means of eight fixed fins, mounted some way forward on the stern part of the metal envelope. Rudders were attached to four of them and elevators to the others, all eight movable surfaces being of the balanced type.
The ZMC-2's performance we excellent throughout its span of ten years of operation, and it wore out its original engines, which were replaced by new ones. The airship was in the air for the last time on 19 August 1939, the tenth anniversary of its first trail flight. Afterwards various tests were conducted with it on the ground and it was finally broken up in 1941. From Macmillian Color Series "Balloons and Airships"
***** Capacity 200,000 cubit feet, length 149 feet, speed 62 m.p.h. This remarkable craft was unique among pressure airships in having a thin but strong and gas tight metal envelope with riveted seams. Intended as the prototype of a new generation of metal airships with capacities up to 10,000,000 cubit feet, she was designed by Ralph H. Upson (assisted by V.H. Pavoecka and others) for the Airship Development Corporation (afterwards the Metalclad Airship Corporation) of Detroit (Grosse Ile), MI. She was completed in 1929 when she made a trouble free delivery flight from Detroit (Grosse Ile) to (NAS) Lakehurst. Although formally removed from the active list in 1939, she continued to give good service until 1942, when she was dismantled to make room for larger ships. Notwithstanding her excellent record, she was so much in advance of her time that attempts by her manufacturers to obtain further orders from the Navy were unsuccessful.
***** The rivet machine that sewed the skin together for this new ship and made it possible to build was invented and designed by Edward J. Hill who also was on many of the test flights around Grosse Ile.
***** The Commanding Officer NAS Lakehurst directed that the metal-clad airship, ZMC-2, be salvaged and the car complete with engines, instruments and appurtenances be assigned to the Lighter-Than-Air Ground School at Lakehurst. The ZMC-2, completed in August 1929, had been flown over 2,250 hours.

| | |
| --- | --- |
| View ZMC-2 vertical construction method inside the hangar at what would become part of NAS Grosse Ile, MI. | |
| Internal view of construction of the matalclad airship ZMC-2. Notice the workers inside the hull. | |
| View of the ZMC-2 before launching from her hanger. | |
| Front view of the ZMC-2s car and the 2 Wright J-5 engines on ether side of the cabin. | |
SPECIFICATIONS OF ZMC-2
| | |
| --- | --- |
| Capacity | 200,000 cu. ft. |
| Length | 149 ft. 5 inches |
| Diameter | 52 ft. 8 inches |
| Max lifting cap | 12,250 lb. |
| Useful load | 750 lb. |
| Engines | two |
| Engines type | Wright J-5 Whirlwind seven cylinder radial |
| Horseppower | 220 h.p. |
| Max speed | 62 Mph |
| Range | 675 miles |
| Crew | 2 |
If you have a gif or jpg of one of these aircraft I would love to have a copy for the web site.


Copyright © 2000NASGIVM All rights reserved.
Revised: June 30, 2010