NAS GROSSE ILE

Naval Aircraft Factory N3N-1
Canary or Yellow Peril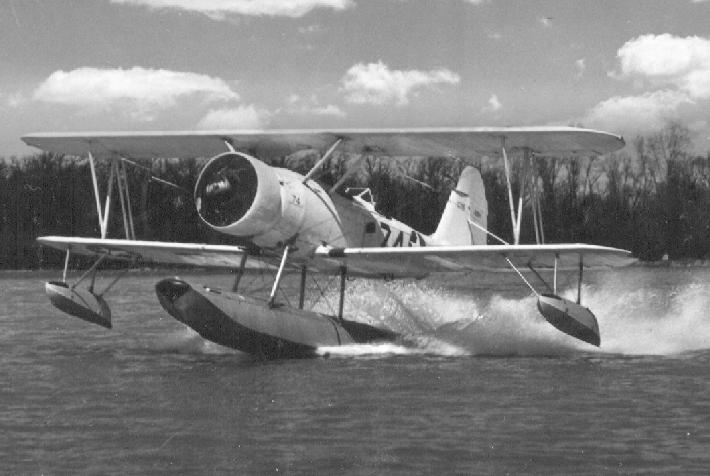 BURO # 0716
| | |
| --- | --- |
| Manufacturer | Naval Aircraft Factory |
| Designation | N3N-1 |
| Nickname | Canary / Yellow Peril |
| Type | Primary Trainer & Utility Transport |
| Length | 28' 4" |
| Height | 13' 4" |
| Wingspan | 34' 0" |
| Gross Weight | 2850 lbs |
| Power plant | 1 Wright R-790-8 |
| Horsepower | 220 |
| Max Speed | 114 Mph |
| Ceiling | 11500 Ft. |
The above aircraft was delivered to NAS Grosse Ile December 5, 1942 and was stricken from the Navy in October 1944 at Corpus Christi, TX. Notice that it still has the engine cowling intack. This is a great shot of the plane taking off from the lower base.
It was designed as a replacement for the NY-2s and NY-3s.
All N3N-1s were delivered with engine cowlings, but in 1941 the cowls were removed to make the engine more accessible.
Even though it looks similar to the Kaydet, the N3N Primary Trainer built at the Navy aircraft factory was not as good an aircraft. It was sluggish, but as most who flew it would admit the N3N was as honest a trainer as you would want to fly.
Depending on the training needs it could be equipped with floats or wheels and at NAS Grosse Ile it was flown both ways.
The yellow color it was painted signified that there might be a student at the controls, warning other pilots to beware. As a result it was probably the first trainer to earn the nickname "Yellow Peril."


Copyright © 2000NASGIVM All rights reserved.
Revised: June 30, 2010