NAS GROSSE ILE

NORTH AMERICAN OV-10A "BRONCO"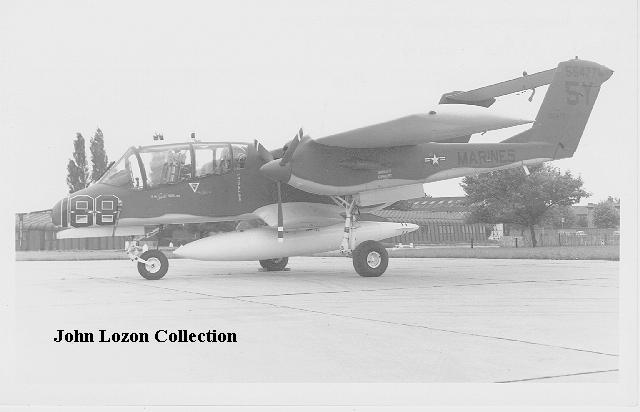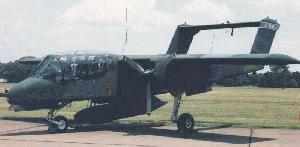 The OV-10A is a twin turboprop short takeoff and landing aircraft conceived by the Marine Corps and developed under an Air Force, Navy, and Marine Corps tri-service program. The first production OV-10A was ordered in 1966 and its initial flight took place in August 1967 and by late 1968 Grosse Ile's Marines had received their Bronco's. If you notice the tail of the above OV-10A the tail number is 5Y instead of the normal 7Y of other Grosse Ile aircraft.
The Bronco's mission capabilities include observation, forward air control, helicopter escort, armed reconnaissance, gunfire spotting, utility and limited ground attack. Adding to its versatility is a rear fuselage compartment with a capacity of 3,200 pounds of cargo, five combat equipped troops, or two litter patients and a medical attendant.
One of the first OV-10As destined for combat arrived in Vietnam on July 1968.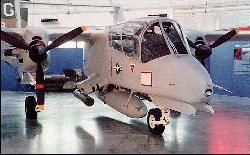 Span: 40 ft.
Length: 41 ft. 7 in.
Height: 15 ft. 1 in.
Weight: 14,444 lbs. max.
Armament:
Four M60C 7.62mm machine guns in fuselage sponsons, plus 3,600 lbs. of mixed ordnance or gun pods carried externally.
Engines: Two Garrett-AiResearch T76s (-G-10, left; -G-12 right)
Horsepower: 715 shaft hp. each
Cost: $480,000
Maximum speed: 281 mph.
Cruising speed: 223 mph.
Range: 1,240 miles
Service Ceiling: 26,000 ft.
If you have a gif or jpg of one of these aircraft I would love to have a copy for the web site.


Copyright © 2000NASGIVM All rights reserved.
Revised: June 30, 2010