NAS GROSSE ILE

GRUMMAN S-2 TRACKER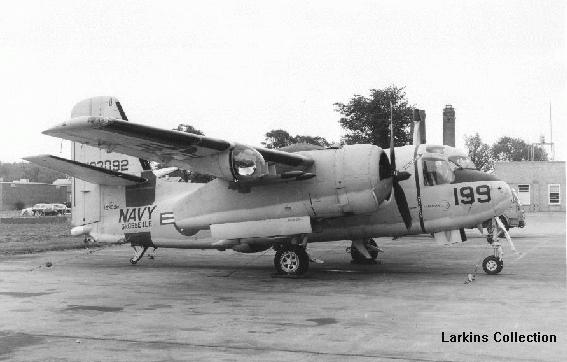 Photograph furnished by William T. Larkins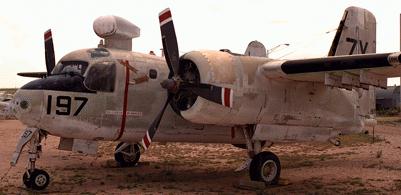 The Pima Air & Space Museum has S2F BuNo 136468 in its
collection; it served at NAS Grosse Ile from 3/29/63 - 9/20/68. If
anyone would like to contribute information or photos about it,
please contact me: Kirsten Tedesco, Curator, 520-574-0462,
6000 E. Valencia Rd., Tucson, AZ 85706. Thanks.
Part of the history of the above S2F-1 furnished by Hal Neubauer:
It is an S2F-1 BuNo 136468 Mfg. under contract #53099
Accepted by Navy 4/13/56
Assigned VS-30 on 4/24/56 at Norfolk
Aboard: USS Leyte
Aboard: USS Lake Champlain
Assigned O&R Bur. Weapons on 10/27/59 at Pensacola
Assigned VS-37 on 5/3/60 at San Diego
Aboard: Hornet
Assigned VS-33 on 12/1/60 at San Diego
Aboard: USS Bennington
At North Island
Assigned NAS Grosse Ile on 3/29/63 For Naval Air Reserve Training.
On 9/20/68 it apparently was assigned to NASDC for retirement. At this
point the record is unclear.
These photographs may not be used or published, neither commercially nor for other purposes, in any form, including but not restricting to the Internet, magazines and books, without the photographer's permission. For all inquiries please contact the photographer by e-mail or by other means.
Classic ASW aircraft, a twin engine shoulder wing aircraft. The S-2 was compact and ugly, with a retractable MAD boom and ventral search radar. Launchers for sonobouys were incorporated in the engine nacelles. The S-2 had a long career, and some are still in service, while others have a second life as fire fighting aircraft --- sometimes re-engined with turboprops. In military service, some were modified to US-2 light transports or RS-2 reconnaissance aircraft. The E-1 Tracker and C-1 Trader were AEW and COD versions of the S-2.
Regarding normal ASW altitudes. Normal sub patrol & search altitude was 500 feet for S2F's. When contact was made they would descend to 50 feet and go on instruments to maintain that altitude especially at night. The lower altitude was to enable the ASQ 8 (MAD equipment) to have maximum search depth while still maintaining a safe flying altitude. -- Hal Neubaurer

| | |
| --- | --- |
| Type | S-2F |
| Function | ASW |
| Year | 1952 |
| Crew | 4 |
| Number of Engines | 2 |
| Engines | Wright R-1820-82WA |
| Wing Span | 22.12m |
| Length | 13.26m |
| Height | 5.05m |
| Wing Area | 46.08m2 |
| Empty Weight | 8505kg |
| Max. Weight | 13222kg |
| Speed | 425km/h |
| Ceiling | 6400m |
| Range | 2100km |


Copyright © 2000NASGIVM All rights reserved.
Revised: June 30, 2010